FREE Sample of Purex Laundry click HERE

FREE Dare To Transform with REDKEN

free CLICK HERE

Join Cookie Mail Buy 1 Get 1 FREE

Click HERE FREE 6 Blizzard a year Buy 1 Get 1 FREE Click HERE GREAT DEAL ON A Presa Holbrook purse Reg. $150 today ONLY $29.99 click HERE FREE Arm and Hammer Toothpaste Click HERE

If your looking for a cheap bite or a way to get FAT then check this deal out!

Taco Bell Only $5! TONS OF FOOD

OR If your feeling like a Burger

GET THIS FOR ONLY $2.99 CLICK HERE FREE Cigar Sample Click HERE

Great Valentines Gift!

10K Gold Heart Shaped Sapphire and diamond ring click HERE Genius HS-02B 20Hz~20KHz Over-the-head Headphones Retail

$10

FREE AFTER REBATE! CLICK HERE

FREE Shea Butter

CLICK HERE FREE Arm and Hammer Toothpaste Click HERE

FREE Block Buster DVD @ BB EXPRESS

Enter Code:

PTPX91X

expires 10/31

FREE WINDOW CLING It's a Reminder to Bring Your Own Bag!

Click HERE

NEW BALANCE RUNNING SHOES

TODAY ONLY GRAB THESE REG $139 TODAY ONLY $74.95!

NEW Balance 933 Running Shoes JENNIFER'S MOVIE LOVE HAPPENS DVD ONLY $21.89 CLICK HERE FREE SHIPPING! FREE Sample of Playtex Gentle Glide Click HERE
CROCS FOR $9! CROC SLIDES ONLY $5! IF YOUR INTO CROCS THEN GRAB THEM NOW! Photo Key Chain - $1.99 incl. Free Shipping

Take your own keepsake souvenirs with our photo key chain promotion brought to you by ArtsCow Coupons. At just $1.99 with no delivery fees required, this is the best opportunity to get ready for Valentine's with a personal touch, but affordable pricing. Get yours today

CLICK HERE

Coupon Code: ZPCF5QQ

EXPIRES: 03/15/2010

LOOK WHAT'S ON SALE AND WHAT'S FREE TODAY!





REEBOKS UNDER $20!

OAKLEY TRACK JACKET WAS $80 NOW ONLY $20! CLICK HERE OAKLEY TERRAIN JACKET REG $238. NOW ONLY $115!

CLICK HERE




OAKLEY MANE JACKET WAS $270. NOW ONLY $115!

CLICK HERE

OAKLEY RECON JACKET WAS $170. NOW ONLY $85!

CLICK HERE

=============================================

HERE'S MY FREEBIES I GOT IN THE MAIL MONDAY!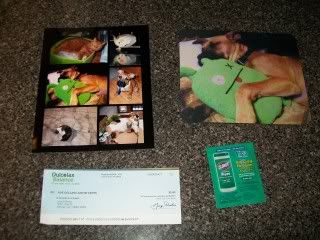 "I got a $5 rebate check back, mouse pad, 8x10 of my animals and a clorox wipe"


Get a FREE $5 BabiesRus egiftcard
sign up to be a friend on face book
Click HERE
Plus for a limited time offer you can get 25% off all types of great baby items like car seats, strollers, high chair, toddler bed and much more Ends Feb 20!
Get (5) 8X10's from Arts Cow for only $4.04 total! You can even get your 8X10 as a Collage!

"I really like this company they do great work and have awesome prices!" Offer good until 2/6/10 Great Valentines gift idea!
Coupon Code: 8X10PRINTS199
Expires on: 02/06/2010
25% OFF AT FOOTLOCKER USE CODE: FFJA328C
25% OFF AT

FOOT ACTION

USE CODE:
FFJAV28C
25% OFF AT

CHAMPS

USE CODE: FFJA628C
PRICES GOOD UNTIL 1/31/10
15% OFF STAPLES PRINT COUPON HERE
Good until 1/30/10
Try a free sample of Avery legal pads Click HERE
FREE Bear Safety Sticker click HERE
"never know when you may need that" ;) just being mean don't worry I slapped myself. ha ha
B1G1 HALLMARK CARD CLICK HERE
Up to $3.49 value
3 FREE 5X7 PHOTO GREETING CARDS @ Shutter Fly
use code: 3FREECARDS
"Expires Feb 2"
CLICK HERE
Land End has a few great items
AWESOME BOOTS ALL UNDER $100!
CLICK HERE
FLEXEES BUY 1 GET 2ND 50% OFF GREAT SHAPEWARE!
CLICK HERE
MADIENFORM BRAS BUY 2 GET 1 FREE!
CLICK HERE
SUPER CUTE CHEAP PANTIES
CLICK HERE
CLICK HERE
CLICK HERE
THERE'S LOTS MORE ON SALE JUST LOOK AROUND!
Grab this Saints NFL long sleeve shirt under $20 and take and

extra 15%

off with this code:

SHOPNSAVE

make it a sweeter deal stack

FREE shipping

code too! code:

FREEJAN



CLICK HERE
SAINTS
SAINTS PANTS
There's a lot more NFL things on sale code work for all of it: Click HERE
GO SAINTS! SUPERBOWL 2010!